"Happiness is finding the first good book in a series, and knowing there are more to follow,"
says a graphic we found on Facebook. That's true, but so is the reverse: sadness is reaching the end of a series and knowing that it's over, finito, the end.
Of course, it never completely has to be the end, as fanfiction writers will tell you (check out www.fanfiction.net for stories for every fandom you can imagine and a few you probably can't.) And sometimes, just sometimes, those continuations, adaptations, and reimaginings make it into print.
Take The Flight of Gemma Hardy, by Margot Livesey.
When the title character leaves boarding school – which she was shipped off to by an unkind aunt – she takes a position as an au pair in a mysterious house, inhabited by a rich, mercurial businessman and his young niece. Sound familiar yet? Jane Eyre it is, but as you've never seen it before. Gemma is from Iceland, the remote house is on the Orkney Islands, and the setting is the 1960s. Stylistically, it's absolutely lov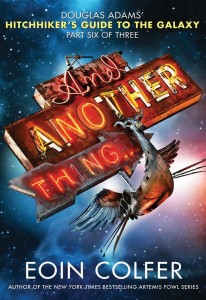 ely, and fans of Jane Eyre will delight in noting the similarities to and differences from the source material.  
When Douglas Adams died in 2001, I assumed that the long-popular Hitchhiker's Guide to the Galaxy series was permanently at an end. Not so: in 2009, on the 30th anniversary of publish date of the original Hitchhiker's Guide to the Galaxy, Eoin Colfer's And Another Thing…, was published as the 6th book in the series. Following in the footsteps of an author with such a unique comedic voice had to be intimidating, but Colfer pulls it off with style.
Jane Austen, of course, is a perennial favorite.
Besides the many, many adaptations and continuations already available, the Austen Project has undertaken to have famous authors rewrite Austen's classic novels in modern day settings – perhaps inspired by the success of the Lizzie Bennet Diaries, a YouTube webshow that brought the Bennet sisters into the present day. Johanna Trollope's Sense & Sensibility may have Marianne listening to music on an iPod rather than playing the piano, and gossip being traded via text rather than handwritten letters and whispered confidences, but her story sticks surprisingly close to the original plot.
There are so many more  – Pride & Prejudice & Zombies, What Happened to Anna K., The Wind Done Gone … These and many others prove that the end of the story isn't always THE END.
[a version of this post was originally published in the Pryor Daily Times.]