Caring for a person with Alzheimer's or dementia is tough.
It's unpredictable, often heartbreaking, sometimes frightening. It can mean unrelenting hard work. And it can be very isolating. I know – my family provided 24/7 care for my grandparents during their last years, struggling to keep them healthy and safe while watching their minds fade away.
Know this: you are not alone.
According to data from the Alzheimer's Association, "more than 15 million Americans provide unpaid care for individuals with Alzheimer's or another dementia."
The Library offers a host of materials designed to help caregivers , from books on making a house "age-proof" to practical advice and information, like why symptoms often seem worse in the evening and how to handle personality changes.
One such book is the recently updated The 36-Hour Day: a Family Guide To Caring for People Who Have Alzheimer Disease, Related Dementias, and Memory Loss. The Chicago Sun-Times called it "the best guide of its kind," and we have to agree. It offers detailed, practical advice in a straightforward manner on everything from how to understand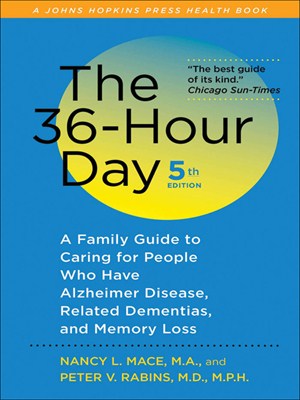 your emotions as a caregiver to making sure medication is taken on time.
There are also the personal stories – Don't Leave Yet: How My Mother's Alzheimer's Opened My Heart by Constance Hanstedt shares the true story of a mother and daughter, while Still Alice – the Library owns both the book and the movie – imagines what life is like from the point of view of the fictional Alice after her diagnosis of early onset Alzheimer's disease.
Providing care and support for both the patient and caregiver is critical … and your library can help.  
[a version of this post originally appeared in the Pryor Daily Times.]