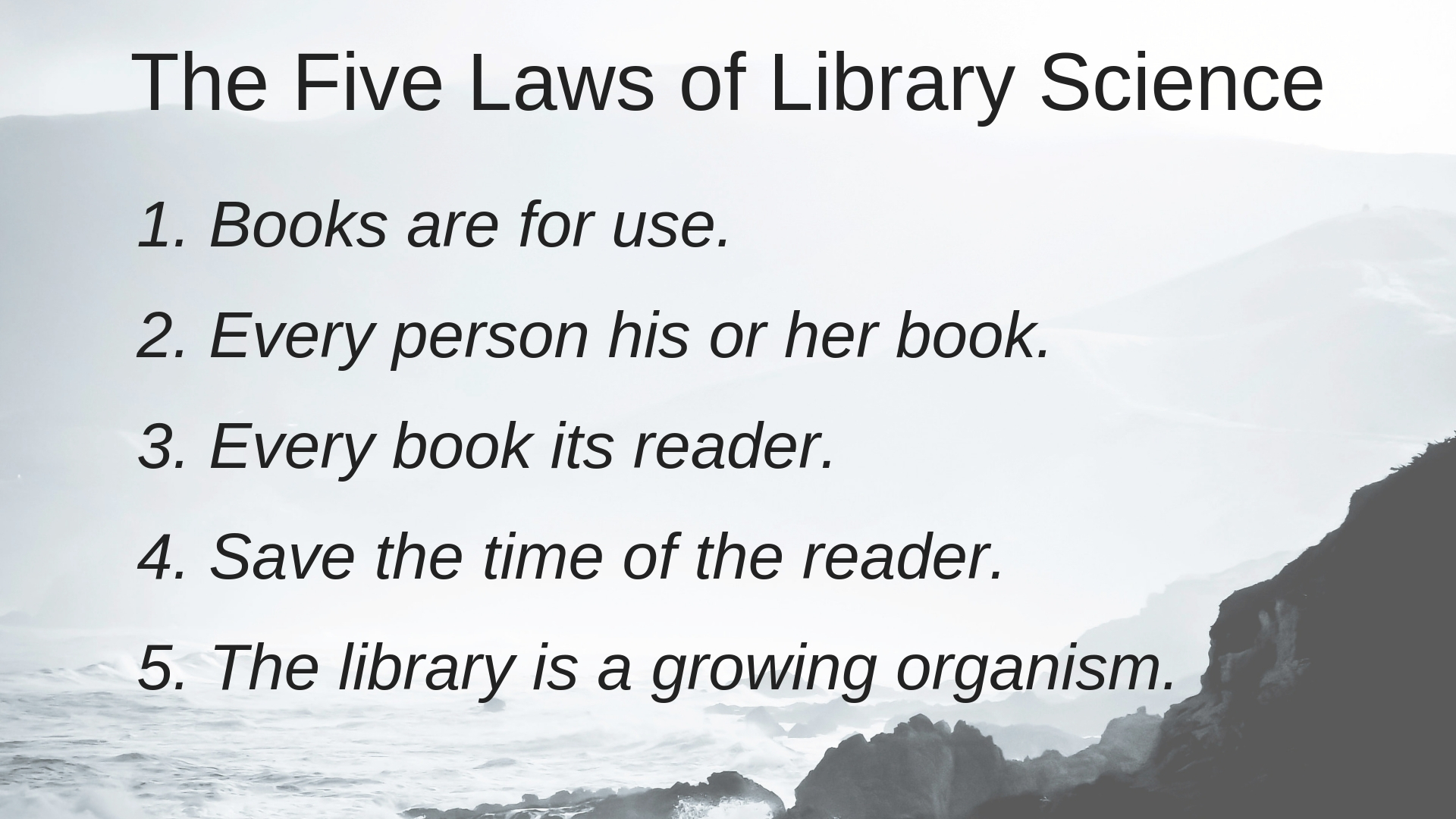 In 1931, Dr. S. R. Ranganathan proposed the Five Laws of Library Science. There have been several adaptations along the way, but I tend to like the original:

Books are for use

Every reader his/her book

Every book its reader

Save the time of the reader

The library is a growing organism
I think about the laws of library science more often than I thought I would when I first learned about them in library school. They're a bit of a touchstone for me when I'm making decisions about the library's collection, services, staffing, and building.

The five laws work very well as a whole to remind libraries that our collections of books, movies, online resources, etc. are not museum pieces to be looked at. Our collections are meant to be used by the people we serve (Law 1).

As we select the items that fill our collections we must consider the needs and interests of our communities (Law 2) as well as act as a conduit to connect people to the correct resources for their needs and interests (Law 3).

While we do all of that, we must make sure we're not putting up too many barriers between our communities and our collections and services, we must make sure our collections and services are findable (Law 4), and we do not get bogged down by the "we've always done it this way" mentality (Law 5).

This week, you may notice Law five is in full effect at your library. Our building is getting some much-needed attention in our public restrooms and we'll soon be looking for bids to do some brick restoration. You might also notice we're looking for two part-time (18 hrs/wk) employees – one for our computer lab and one for our youth services department. If you've got excellent customer service skills and would like to join in on staff shenanigans, get your application to City Hall by 5 pm on Friday, Dec. 7th.