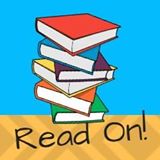 Your library staff tries not to have favorite patrons (just like I'm sure all of you try not to have favorite librarians). I will admit, though, we definitely have a favorite day: Thunderbird Day.
Twice a month, cadets from Thunderbird Youth Academy come to the library during their daily classes. Every hour, we get a new class of cadets searching for information and reading materials. Like any population, their interests are diverse. Also like any population, their reading levels and joy found in reading are varied.
This level of diversity experienced in a single day is what makes Thunderbird days such favorites. Because each class of up to 20 cadets searches for materials for a finite amount of time, the staff must keep our reading recommendation and information searching skills sharp. It's an all-hands-on-deck kind of day where each staff member often juggles the needs of multiple cadets at a time. Not to mention the needs of our regular patrons who happen to come in at the same time.
It's a tiring day that allows us to do what we do best – connect our patrons to the resources and materials they need. Not only that, we get to know the cadets in a fairly relaxed environment. We also get to know their teachers, sergeants, and support staff whose care and dedication to the cadets' success is evident.
The partnership between your library and Thunderbird is beneficial to both organizations and, it is my hope, also beneficial to the cadets and their communities. Learning to navigate a library ensures each cadet has the skills necessary to continue a lifetime of learning.
Though I'm sure each cycle is plenty long for the cadets, we are always sad when a cycle ends. We hope our library has been helpful during their time in Pryor and that they had as much fun as we always do.