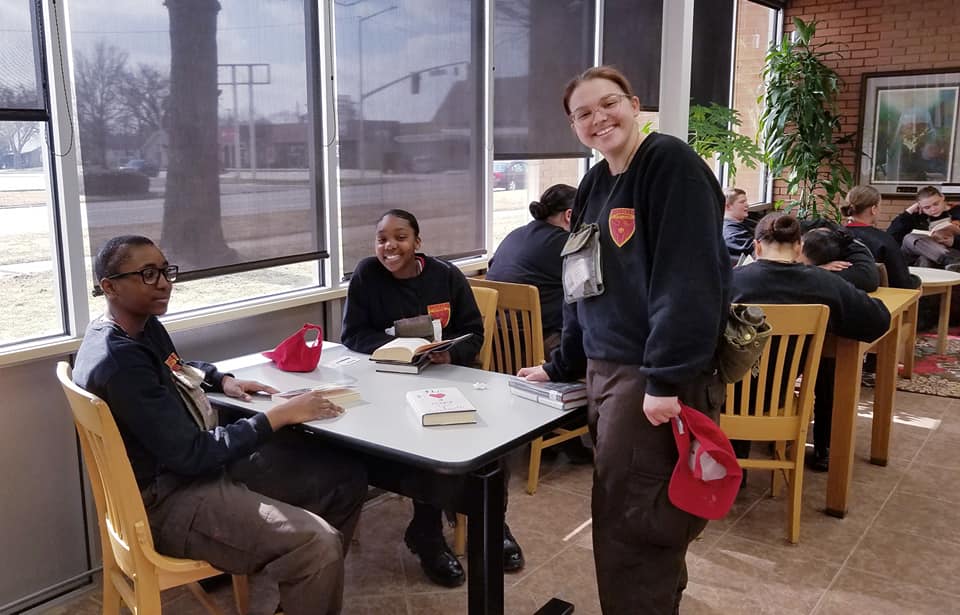 I've written before about how much the library staff enjoys our partnership with the Thunderbird Youth Academy and their twice monthly visits. Thunderbird's newest cadet group started library visits last week and reminded me what a joy this partnership is for us.
It's an opportunity for the library staff to flex our professional muscles by recommending books to read, teaching cadets how to use the library, and sharing our love of information and reading with an eager group of young people. These are things we do every day, of course, but on Thunderbird days we get to do what we do best for over 100 cadets in quick succession. Each hour brings another group of 20 or so teenagers looking for information or a good read.
After each Thunderbird visit, the staff is exhausted but exhilarated. We compare notes and are always excited when we've been asked something new. Marie and Amanda, who are in charge of selecting and ordering library materials, make note of titles or subjects the cadets asked for that we couldn't get for one reason or another. We talk about trends we see with each group and what types of books seem most popular. We rejoice when a cadet comes back to tell us he or she liked (or didn't like) a particular book we recommended.
By the time they're ready to graduate, we also celebrate (with only the smallest hint of smugness) the fact that many cadets come to the library insisting they hate reading and then morph into some of the best people to ask for book recommendations. Watching and helping to facilitate the transformation from a non-reader to a reader is one of the most validating parts of being a librarian. I'm so glad Thunderbird is part of my librarian experience. I only hope the cadets and their staff get half as much enjoyment out of their visits as we do.